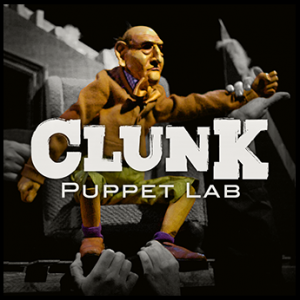 CLUNK Puppet Lab is a multi-disciplinary company that creates original work through the exploration of highly visual theatre.  Our experimental approach to collective collaboration strives to delve into the minute, intimate moments and connections of shared human experience, by integrating unconventional practices such as puppetry, physical theatre and sculpture/installation. CLUNK premiered their inaugural show "How I Became Invisible" at Vertigo Theatre in Calgary for a two week run in the fall of 2011.  The show was later featured as the main stage show, where it was performed to sold out houses at the Puppets Up International Puppet Festival in Almonte Ontario in August, 2012.  Most recently HIBI toured to the Spring Works Festival in Stratford Ontario in May 2014. CLUNK Puppet Lab has also created and performed a number of new short works that have toured to various festivals including: "Fin" at the Festival de Castelliers; "The Uneventful Disappearance of Mr. Ogorki" at the Fresh Ideas in Puppetry, as well as at Theatre Passe Muraille in Dutch Uncle's Gregori's Phantastic Big Time Show;  "Gone Fishin" at OUF Festival in Montreal. Additionally, CLUNK has worked building for The Old Trout Puppet Workshopon their most recent show "Ignorance"; built and performed in their new NFB film "From Naughty to Nice", have taught workshops on puppet mechanics at Humber College and puppet construction for the Humber College Puppetry Intensive, puppeteered in a music video for Chris Demeanor's Gunslinger, were commissioned by Forte Musical Theatre to build the puppets for their show Maria Rasputin Presents, and puppeteered on a children's TV demo for Kim Persona.  CLUNK is currently collaborating with David Lane of New England Puppetry on phase two of "Chronicles of Rose" the story of Rose Valland, the curator of the Jeu du Paume Museum in Paris which was commandeered by the Nazis during the occupation of France in WWII.
Click HERE to visit CLUNK Puppet Lab's web site
Amity Textile Arts is all about finding the best ways of producing stylish and ethically manufactured textile-based items. We want to do things differently, by providing everybody in our supply chain with opportunities to earn a living wage, build profitable and creative businesses in their communities, and use science and technology in the most sustainable way possible. We want to be a changing force, by encouraging social consciousness and sustainable choices.  Our clothing is a physical expression of our desire to make meaningful change for a better, healthier world.  Our goal is for each thread to be traceable, from it's new owner, to the artists and designers who conceived the ideas, to the garment and textile manufactures who made and assembled the fabric, to the farmers who grew the fibres, to the soil from which the fibres were grown.  It's a beautiful idea that we want to make into a reality, not only for our customers, but also for the all the people in our value chain.
Click HERE to vist Amity Textile Arts Website